Wednesday, 4. January 2017 Bad Antogast, Germany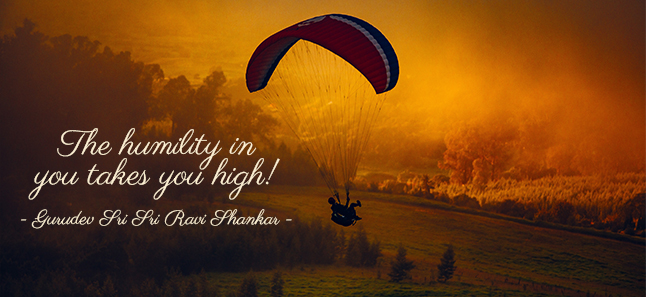 Gurudev, I always feel that I have received more than I deserve, and I feel uncomfortable..
Sri Sri Sri Sri Ravi Shankar:
You should feel comfortable. When you feel you have received more than you deserve, you become grateful, you feel life is a gift to you. When you feel that you really deserve this, then you become arrogant, dominant, rude, and rough. It is only when you realize that you are not worthy of what you have received and what you are receiving, then you become humble and more grateful! The more grateful you are, the higher you go;
humility in you takes you high
.
Gurudev, is there a punishing God. If not, who is punishing me? I want to live without punishment.
Sri Sri Ravi Shankar:
No, there is no God punishing you at all, don't worry. It is only your karma that comes back to you. If you don't chuck the karma, the karmas come back to you.
Karma is, you do some action and the reaction to the action comes back to you. But if you realize this, and you do some remedies for your karma, then you can reduce it. E.g., if you hear on radio that there will be a heavy traffic jam tomorrow, you take caution and start a little early; that is the remedy, right? Similarly, if there is going to be snow storm tomorrow, then you put your socks on, and do whatever else you need to do.
Gurudev, there are many young children who are aware and awake, and know that they are here for some important work. How do we support these gifted children?
Sri Sri Ravi Shankar:
Yes, there are many children who are telling their parents that my real home, my real family is in the ashram. Many children are saying these sort of things around the world; many have become vegetarians, isn't it? How many of you have seen that? Many children like or love chanting.
Yesterday, I saw on a news channel in India that there was a child born to the royal family of Bhutan. He said, "I have come here after 828 years; I was a teacher and a student in Nalanda University, take me there." And so they took the child from Bhutan to Bihar in India. The child was all dressed in a robe, looked like a monk; he could recall where he used to sit, what was there and everything around.
There are so many such incidents even in The Art of Living. One child in The Art of Living recently said, "I was a Rishi in the Himalayas, and now I have come." He is a one and half year-old child; he calls my name so perfectly, "Gurudev". He takes the rudraksha mala, puts it around and says, "This is the rudraksha mala!"
There are many such children. You will find this occurring more in Russia and Mongolia.
Gurudev, can you explain more about mental illness? Is it unbalanced vata or is it karma? How can we help them?
Sri Sri Ravi Shankar:
Just serve such people. People with any mental diseases like depression and others can be helped through yoga, pranayama, and meditation. There are many which you cannot help, you simply have to accept them.
Despite knowing that I should not miss my daily kriya, the gap is increasing. What should I do?
Sri Sri Ravi Shankar:
Never mind. If you cannot do kriya, do some pranayama. If you cannot do that, just sit and meditate. If you cannot mediate, then just think about the time you have spent here; think about the knowledge and the words I have said to you. If you say that you can't do anything, that is not acceptable; you can at least do something!
If you have no time to meditate, then at least listen to some knowledge when you are driving the car; there are a number of CDs. When you listen to the knowledge, your consciousness expands. But don't take this as an excuse not to meditate. You should sit, close your eyes and let go. When you become so deep and peaceful, your brain and perceptions become different. It makes a big difference. When you cannot even meditate, at least remember the knowledge, at least feel connected!